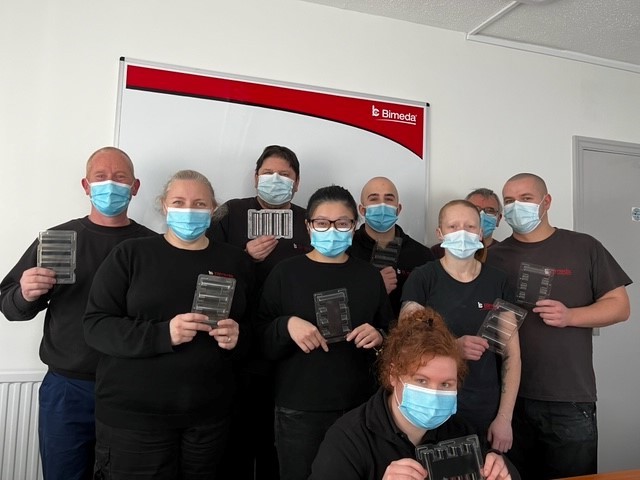 Project Maple
Converting Over 3 Tonnes of Non-Recyclable Packaging Material To A Recyclable Alternative
The Bimeda team in Denbigh, UK, have recently collaborated to deliver an exciting sustainability-driven project focused on packaging.
Our unique soluble glass boluses are manufactured and packed at our facility in Denbigh and the team were interested in investigating whether any changes could be made to packaging, which would ultimately reduce waste.
The printed cartons used for packaging the boluses are made with around 65% recycled fibres and are easily and widely recycled. They are printed with vegetable oil based inks, contain no metal stitches and use a water-based, water soluble glue. The cartons used for transit of the boluses are made of 75% recycled fibres and the material is also widely and easily recycled.
However, the team in Denbigh wanted to understand if any further improvements could be made to the product packaging. Historically, boluses had been placed inside PVC blister packs. These packs provide protection to the boluses during transit and also protect the product from moisture. Unfortunately, however, this material is still not widely recycled.
Following on from an investigation into more sustainable alternatives, the Bimeda Denbigh team identified that blister packs made from R-PET instead of PVC, could be a great option. R-PET blisters are made with approximately 80% recycled material, and R-PET is also easily recycled. In fact, it is the most widely recycled plastic.
Stability trials conducted on the various product formulations shows that the R-PET material had no effect on the finished products. The R-PET blisters provide the same level of protection to the boluses as PVC, but are a more environmentally sound alternative. The packs are also embossed with the recyclable logo, to help drive awareness among users that this packaging can be recycled.
Following on from this investigation the Bimeda Denbigh team were pleased to cease using PVC blister packs for all trace element boluses in favour of R-PET. On an annual basis, this equates to over 175,000 blister packs and over 3 tonnes per year of material that can now be recycled, instead of going to landfill.