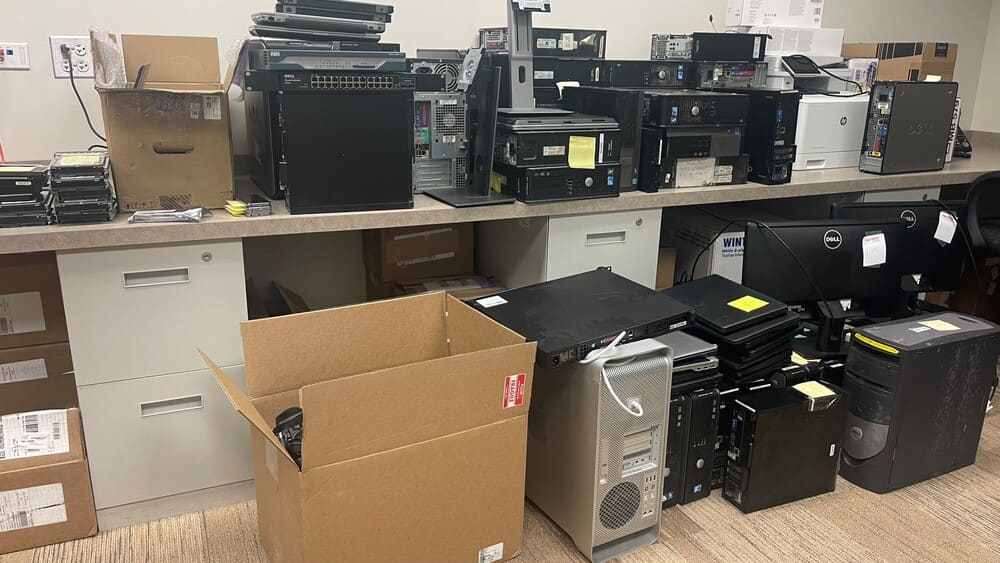 Bimeda US Introduces Electronics Recycling Initiative
Bimeda holds first ever e-recycling day.
One of Bimeda's core sustainability pillars is Waste. We commit to 'proactively looking for opportunities to implement sustainable practices for the management of waste, including recycling, re-using and repurposing waste. Where this is not possible, we will manage the disposal of waste in the most appropriate manner, giving full consideration to the environment and to all locally available options for waste management.'
The IT team in Bimeda USA recently realised that there was a great opportunity to help employees dispose of their electronic waste in a responsible manner, while taking the opportunity to recycle dated Bimeda electronic equipment at the same time. It is a common misconception that computers, cell phones and electronic goods cannot be recycled or disposed of in a responsible way. Consequently, many people find themselves with drawers full of old phones, laptops and other electronics, with no obvious way to recycle or repurpose them.
In fact, about 98% of a computer is recyclable or re-useable. Natural materials like copper, iron and aluminium can all be harvested and re-used in the production of future computer products. Many of the plastic components can also be recycled.
On July 13th Bimeda held its first ever e-recycling day, at the Oakbrook site in the USA. As well as recycling old Bimeda equipment, employees were invited to bring in any old personal electronics which they wished to dispose of responsibly. In total, the team collected 70 old computers, a number of old servers, 25 used cell phones, many old monitors, shredders and various other pieces of electronics equipment.
Bimeda then partnered with a local company which specializes in eWaste and E-cycling was contacted to assist with the responsible disposal of the equipment. The firm guarantees that all components are separated and recycled or disposed of responsibly, as well as certifying that the data would wiped from every hard drive and they would be punched to make them un-usable.
This initiative is now due to be rolled out at many other Bimeda locations.
---